When:
September 12, 2014 @ 5:00 am – 7:00 am
2014-09-12T05:00:00+00:00
2014-09-12T07:00:00+00:00
Where:
Forks Chamber of Commerce / Visitor Information Center
1411 South Forks Avenue
Forks, WA 98331
USA

Contact:
Lissy Andros
360-374-2531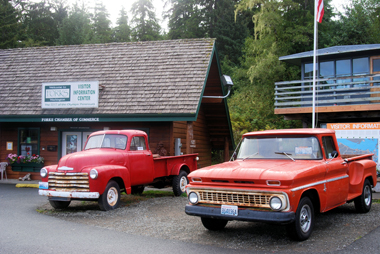 Stephenie Meyer Day / Bella's Birthday Weekend
 Visitor Information Center "Open House"
 Thursday, September 11, 2014 from 5 – 7pm
Enjoy photo ops with the Olympic Coven in the rainforest, at the City of Forks sign, with "Bella's Trucks," Charlie's police cruiser and more…
  Marcia Bingham and Mike Gurling, featured in "Twilight in Forks" will be on hand for pictures and autographs.        
 Take a guided walk through the mossy, mysterious rainforest trail located right behind the VIC & maybe Jacob will come along to protect you!
 Tour the Forks Timber Museum – wouldn't you like to see how Emmett looks in a hickory shirt?  
 Relax and reflect at the Forks Loggers Memorial, where Jasper likes to spend time…
 View the beautiful Twilight T-shirt quilt handmade by local quilter, Sharon Buckner.  Have a vintage character t-shirt that you would like to donate for a future quilt?  Sharon is looking for more t-shirts to include in upcoming projects!
 Enjoy music by DJ Camallo, fangtastic cookies and Bella's Bloody Punch
Drawings & giveaways
Sign our world-famous Guest Book and put a pin on our map

*All events are free of charge but donations are gladly accepted and will benefit the Forks Police Foundation, the Visitor Information Center and the Forks Timber Museum.
Olympic Coven "Bella & Edward"