When:
May 23, 2017 @ 6:30 pm
2017-05-23T18:30:00-07:00
2017-05-23T18:45:00-07:00
Where:
Peninsula College at Forks
481 S Forks Ave
Forks, WA 98331
USA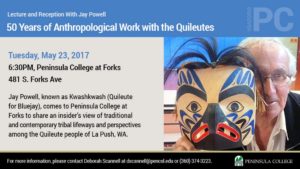 Take This Job and LOVE it!
50 Years of Anthropological Work with the Quileutes
Jay Powell, known as Kwashkwash (Quileute for Bluejay), came to the Northwest coast as
a young graduate student fifty years ago and today is a renowned author with degrees in
Archeology and Anthropological Linguistics. Jay comes to Peninsula College at Forks
to share an insider's view of traditional and contemporary tribal lifeways and perspectives
among the Quileute people of La Push, WA.