When:
November 17, 2017 @ 10:00 am
2017-11-17T10:00:00-08:00
2017-11-17T10:15:00-08:00
Where:
Kalaloch Lodge
157151 US-101
Forks, WA 98331
USA

Contact:
Jefferson County Historical Society
Call (360) 385-1003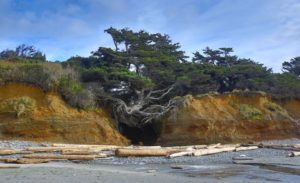 The Jefferson County Historical Society's Ninth Annual West End Weekend
 November 17-19.
Make your reservations today!
Beautiful and historic Kalaloch Lodge is headquarters for West End Weekend.
JCHS executive director Bill Tennent said, "There are two major goals of the weekend—to encourage people from east Jefferson County to explore that beautiful and historic area of our county and to collect stories and historical information from West End residents for the county archives." West End residents are invited to have their stories recorded throughout the weekend by the JCHS Oral History Team. The recordings become part of the oral history collection housed at the JCHS Research Center. Historic Kalaloch Lodge will be the headquarters for the event and is offering special rates for Peninsula residents.
For lodging reservations, call 866-662-9928.
The Forks Timber Museum will be open for visitors travelling through Forks en route to Kalaloch on Friday November 17 and Saturday November 18, 10:00 am-4:00 pm. The rustic museum was built by the Forks High School carpentry class and many volunteers. Set on five wooded acres, it tells the story of Northwest Olympic Peninsula logging.
An exhibit of historic photographs of small rural Jefferson County communities will be mounted in the Becker Suite at the Kalaloch Lodge at 5:00 pm on November 17 and will close at 10:00 am on November 19.
There will be storytelling on Saturday November 18 at the Peak 6 Adventure Store on the Upper Hoh Road from 11:00 am until 1:00 pm. Gladys Allen, now in her 80's, will share stories of her father, Leo Nelson. Nelson was born in Sweden in 1900 and became known as the "Paul Bunyan of West End." His feat of bucking over 100,000 board-feet of timber with a cross-cut saw, known as a "misery whip", into 32-36 foot lengths in a single day is logging legend.
At 2:00 pm on Saturday, in the Becker Suite, author Teresa Schoeffel-Lingvall will present a program about Olympic Hot Springs, a popular resort owned by her family for 60 years. All programs are free and open to the public.
More information visit:
https://www.facebook.com/pg/Jefferson-County-Historical-Society-204310806254739/about/?ref=page_internal