When:
2016-07-24T00:00:00-07:00
2016-07-25T00:00:00-07:00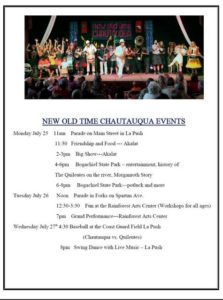 The

New

Old

Time

Chautauqua
July 24th ,July 25th and July 26th
Fun
for
"Kids"
of
ALL
ages
JULY 25 – JULY 27
Monday July 25 Location: La Push
11:00 am Parade-all are welcome, starts at QNR @ 10:30
11:30 am Gather at Akalat Center-food and friendship
2:00 pm Show at Akalat Center-jugglers, band, acrobats etc.
Monday July 25 Location: Bogachiel State Park
4-6pm Workshops, entertainment, ranger tales, nature walk
6-8pm Community Potluck with Chautauqua Folks
Tuesday July 26 Location: Forks
12 Noon Parade-ll are welcome, starts behind RAC 11:30
1:30-3:30 Workshops (juggling, tap dancing, history
lectures, acrobatics, quigong and more) @ RAC
7:00pm Big Show at the RAC- Fantastic feats of daring
and belly laughs-not to be missed!!!
Wednesday July 27 Location: La Push
4:30 Baseball game– Quileutes vs Chautauqua
8:00 Swing Dance, Live Music, Everyone invited!!!!
PARADES * JUGGLERS* ACROBATS* MUSIC