When:
2017-04-28T19:00:00-07:00
2017-04-28T19:15:00-07:00
Where:
Forks High School Commons
261 Spartan Ave
Forks, WA 98331
USA

Contact:
Forks High School Drama Club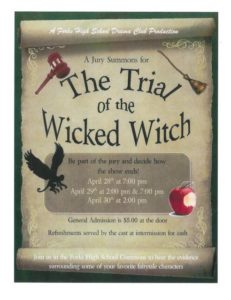 The Trial of the Wicked Witch
The Wicked Witch has finally been caught and hauled into the Court of Once Upon a Time to stand trial. She's accused of casting a spell on Sleeping Beauty, attempting to poison Snow White, kidnapping Rapunzel, and trying to eat Hansel. Red Riding Hood heads up the prosecution with the Evil Stepmother of Cinderella serving as the defense attorney. The Trial of The Wicked Witch ends with the jury deciding if the Witch is guilty or innocent!