When:
2018-04-21T00:00:00-07:00
2018-04-22T00:00:00-07:00
Where:
West Coast Beaches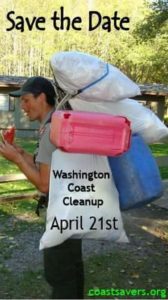 Washington Coast Cleanup
Saturday, April 21,2018
Calling all volunteers!
Online registration is now open for this year's Washington Coast Cleanup, to be held on April 21st.
Help save your favorite beach from the harm of marine debris and enjoy a day of fun and great exercise on Washington's beautiful beaches from Cape Disappointment to Cape Flattery and up the Strait of Juan de Fuca.
Sign up today at CoastSavers.org!
Follow on Facebook
https://www.facebook.com/Washington-CoastSavers-410402580766/