When:
March 10, 2016 @ 3:00 pm – 6:00 pm
2016-03-10T15:00:00-08:00
2016-03-10T18:00:00-08:00
Where:
Rainforest Arts Center
35 N Forks Ave
Forks, WA 98331
USA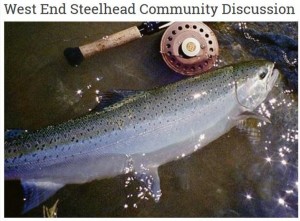 West End Steelhead Community Discussion
The City of Forks is inviting the West End Community to come and participate in an initial community discussion regarding the Community's perception on the importance of Steelhead on the West End. This Meeting will be held on Thursday, 10 March, 2016 at the Rainforest Arts Center at 35 North Forks Ave. Doors will open at 2:30 p.m. and the meeting will start at 3 p.m.
It is hoped that anglers, guides, business owners, river enthusiasts, and interested citizens could discuss what wild life and hatchery steelhead mean to the West End Community. The meeting will start with opening comments from the City, and from the invited co-managers of the Quileute Natural Resources, Hoh National Resources and Washington State Fish and Wildlife. After those brief presentations, the participants will engage in a facilitated discussion on what role steelhead play in the region, their importance, and their iconic nature. Participants will be asked to work in a small groups as well to help develop a list of information  that is needed to better under the current status of steelhead in the West End, as well as work to determine who be best to pursue addressing those data gaps. Finally, possibly highlighting the need for another community discussion, there will be the start, of identifying things that could help West End Steelhead.
No host refreshments will be available during the event
For further information, or questions, please contact Rod Fleck, City Attorney/ planner at http://rodf.forks@forkswashington.org
Or at 360-374-5412. Individuals in need of accommodating services in order to participate should contact Mr. Fleck in advance of the meeting so such services may be made available.