Events
Nov
22
Fri
FCH Powder Puff Turkey Bowl Football

@ Forks High School
Nov 22 @ 6:00 pm – 8:00 pm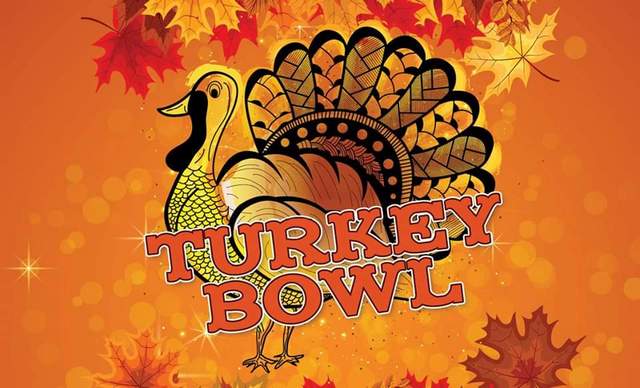 We welcome all of West End community to attend our 3rd Annual Turkey Bowl in support of fundraising for our local United Way charities. This event is going to be BIG and entertaining.
Two teams of women from FCH are volunteering to compete and raise money for                                            United Way of Clallam County. We can't wait to run in the mud!
Concessions are available to help keep you warm!
Ticket fees include:
Adults $4
Children 10 and under are FREE!
Come prepared rain or shine, for fun and food. Root for your favorite team and laugh as we do our best to get a touch down!!
STUDIUM WEST TO PRESENT "GENERATIONS OF MAKAH WEAVERS"

@ Peninsula College Forks
Nov 22 @ 7:00 pm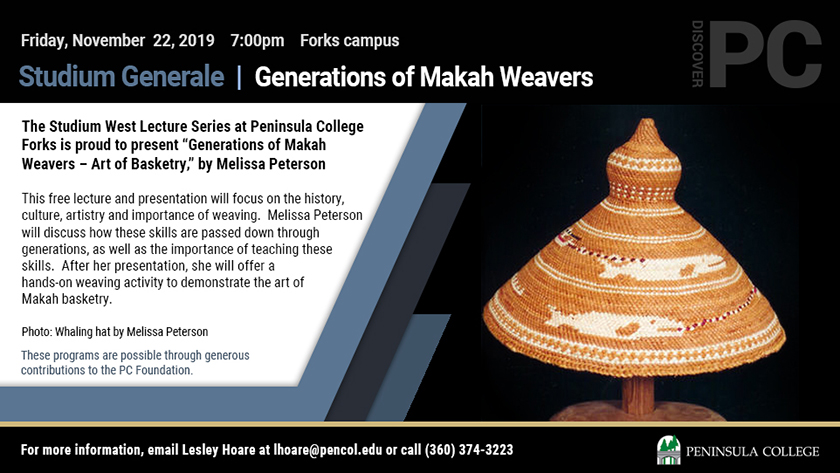 The Studium West Lecture Series at Peninsula College Forks is proud to present "Generations of Makah Weavers – Art of Basketry," by Melissa Peterson November 22 at 7:00pm, at the Forks campus.
This free lecture and presentation will focus on the history, culture, artistry and importance of weaving. Peterson will discuss how these skills are passed down through generations, as well as the importance of teaching these skills. After her presentation, she will offer a hands-on weaving activity to demonstrate the art of Makah basketry.
Peterson is a member of the Makah tribe of Neah Bay and a master weaver. She began weaving as a child and has continued the tradition throughout her life. Over the years, she has mastered many styles of traditional Makah basket weaving, including some older styles that are rarely practiced today.
The event is free and open to the public.
Nov
28
Thu
5th Annual Turkey Trot

@ Elk Creek Conservation Area
Nov 28 @ 8:00 am
FORKS COMMUNITY HOSPITAL TURKEY TROT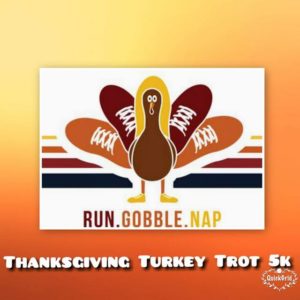 Run or walk through beautiful Elk Creek Conservation Trail in Forks WA
When: Thanksgiving Day Thursday November 28th, 2019
Time: Sign ups start at 8:15am.
The race starts at 9am.
RAIN OR SHINE
Suggested $ 10 donation (but not required). Donations will go to United Way of Clallam County.
Awards/Medals for first 100 finishers.
To RSVP select "going" on this event page.
Google map the location: http://goo.gl/maps/T4PEAZ39RFp
This event is a fun family 5K run or walk .
Participate at your own risk. You are welcome to inspect the course ahead of time to ensure that you feel comfortable with the trail.
Elk Creek Conservation Trail is a lollipop-shaped course, and is hosted by Forks Community Hospital.
Google map the location: http://goo.gl/maps/T4PEAZ39RFp
https://www.facebook.com/pages/Elk-Creek-Conservation-Area/58673525472897
Dec
6
Fri
18th Annual Cherish Our Children

@ Akalat Center
Dec 6 @ 5:00 pm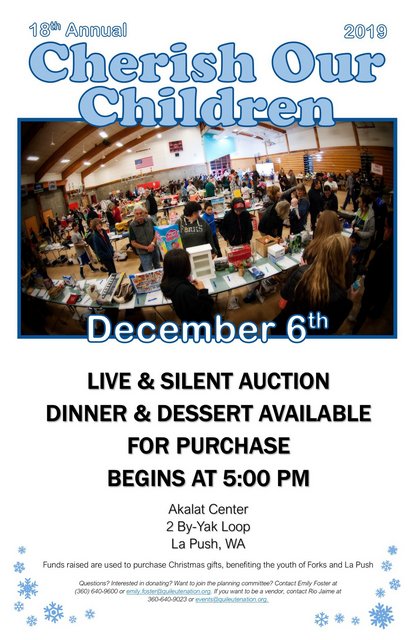 18th Annual Cherish Our Children
Dinner & Dessert for Purchase
Silent Auction & Live Auction
Funds raised are used to purchase Christmas gifts, benefiting the youth of Forks and Lapush
Sponsored by the Quileute Tribe and the City of Forks