Events
Oct
13
Sun
Hickory Shirt / Heritage Days

@ Forks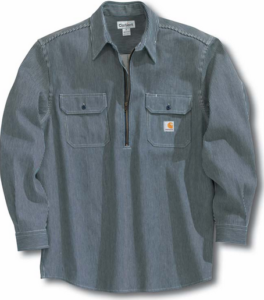 Hickory Shirt / Heritage Days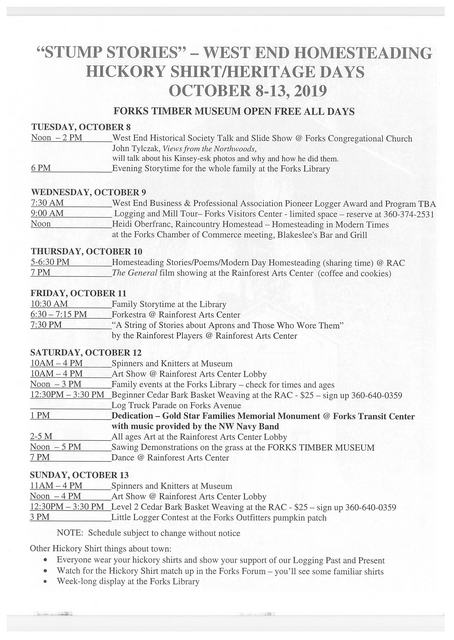 12:00 PM
West End Historical – Congregational Church – John Tylczak talking about his Kinsey-esk photos – why and how he did them
6:00 PM
Evening Storytime for the whole family at the Forks Library
Wednesday, October 9, 2019
7:30 AM
Pioneer Logger Award and Program – West End Business at Congregational Church
9:00 AM – Logging and Mill Tour – Forks Visitors Center –  limited space – reserve at 360-374-2531
12:00 PM
Heidi Oberfranc – Homesteading in Modern Times – Chamber Lunch – Blakeslee's
Thursday, October 10, 2019
5:00 PM – 6:30 PM
Homesteading Stories/Poems/Modern Day Homesteading sharing time at the Rainforest Arts Center
7:00 PM
The General – film at the Rainforest Arts Center – refreshments – by donation
10:30 AM
Family Storytime at the Forks Library
6:30 PM – 7:15 PM
Forkestra at the Rainforest Arts Center
7:30 PM
"A String of Stories about Aprons & Those Who Wore Them" by Rainforest Players at the Rainforest Arts Center
Saturday, October 12, 2019
10:00 AM – 4:00 PM
Spinners and Knitters at the Forks Timber Museum
10:00 AM – 4:00 PM
Art Show in the Rainforest Arts Center Lobby
12:00 PM
Log Truck Parade on Forks Avenue ending at the Forks Timber Museum during sawing demonstrations
12:00 PM – 3:00 PM
Family events at the Library – check for times and ages
12:00 PM – 5:00 PM
Sawing Demonstrations at the Forks Timber Museum with drag saws and more
12:30 PM – 3:30 PM
Cedar Bark Basket Weaving Beginner Class at the RAC by Quileute Tribal Elder Philip Ward – $25 – sign up – 360-640-0359
1:00 PM
Dedication of the Gold Star Families Memorial Monument at the Forks Transit Center with music by the NW Navy Band
2:00 PM – 5:00 PM
All ages Art at the Rainforest Arts Center
7:00 PM
Dance at the Rainforest Arts Center
11:00 AM – 4:00 PM
Spinners and Knitters at the Forks Timber Museum
12:00 PM – 4:00 PM
Art Show in the Rainforest Arts Center Lobby
12:30 PM – 3:30 PM
Cedar Bark Basket Weaving Level 2 Class at the RAC by Quileute Tribal Elder Philip Ward – $25 – sign up – 360-640-0359
3:00 PM
Little Logger Contest at Forks Outfitters Pumpkin Patch
NOTE:  Schedule subject to change without notice
Other Hickory Shirt things about town:
Everyone wear your hickory shirts and show your support of our Logging Past and Present
Watch for the Hickory Shirt match up in the Forks Forum – you'll see some familiar shirts
Week-long display at the Forks Library
Cedar Bark Basket Weaving Class

@ Rainforest Arts Center
Oct 13 @ 12:30 pm – 3:30 pm
Cedar Bark Basket Weaving Classes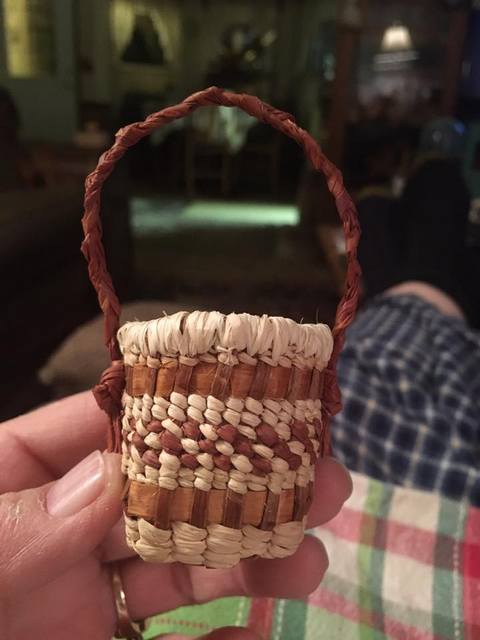 If you have always wanted to learn to weave baskets, want to continue learning, or missed our previous classes, here's your chance.
Class taught by Quileute Tribal Elder Phillip Ward at the Rainforest Art Center
At 35 N Forks Ave.
Beginners class
Saturday October 12th ,2019, 12:30-3:30
Level 2 basket weaving, ( if you have taken a previous class)
Sunday October 13th , 12:30-3:30
Cost is $25
Sign up early because class size is limited, call Flora 360-640-0359, or message me here to register. This is a fun class, not to be missed.