Events
Mar
2
Sat
FREE TAX PREPARATION

@ Forks City Hall Council Chambers
Mar 2 @ 10:00 am – 3:00 pm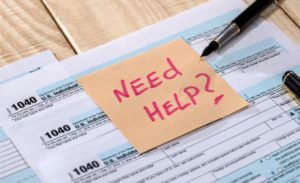 FREE TAX PREPARATION
IRS-certified volunteers provide free tax preparation and e-filing
for low-and-middle-income taxpayers of all ages.
FORKS CITY HALL
Council Chambers; 500 East Division Street
Every-other-Saturday, from 10am—3pm:
(February 2 & 16, March 2 , 16 & 30,and April 13)
No appointment is required. First-come, first-served.
Contact Hearst Coen, 360-452-6541, if you have any questions.
Please bring the following with you to the TAX-AIDE site:
Photo ID (required)
Social Security Cards for taxpayer, spouse, and dependents (required)
Documentation of health insurance coverage for everyone on the tax return.
Bring Form 1095, if received.
W-2s, 1099s and all documents necessary to complete your 2018 return
Bank check with routing and account numbers, if direct deposit desired
Your 2017 Tax Return
The TAX-AIDE program is sponsored by the IRS and the AARP Foundation.
BREADMAKING with Victoria Redhed Miller

@ Forks Branch Library
Mar 2 @ 1:00 pm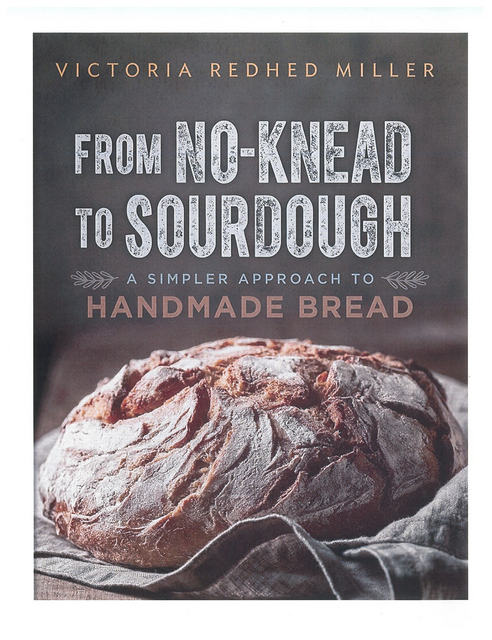 Victoria Redhed Miller, local author of From No-Knead to Sourdough: A Simpler Approach to Handmade Bread, is headed back to the West End Branches of the North Olympic Library System (NOLS)! Miller will present a workshop titled Homemade Bread: Techniques and Tips, providing everything you need to take your homemade bread to the next level. Miller will present at the Forks Branch Library on Saturday, March 2 at 1pm, and the Clallam Bay Branch Library on Friday, March 15 at 1pm.
These workshops will include a live demo of breadmaking techniques like mixing, kneading, and shaping. There will also be a demo of a GrainMaker home grain mill – for those interested in grinding their own grain for baking. Bring your questions and enthusiasm for baking bread to this fun, fast-paced workshop!
Victoria Redhed Miller lives on a 40-acre off-the-grid farm outside of Sequim.  In her newest book, she blends her own journey toward self-reliance with her fascination for traditional homesteading skills and love of good food.  Miller's previous books include Craft Distilling and Pure Poultry. Miller will have copies of her books for sale and signing after each presentation.
Mar
6
Wed
Forks Chamber of Commerce Meeting

@ Blakeslee's Bar & Grill
Mar 6 @ 12:00 pm – 1:00 pm

Forks Chamber of Commerce
Weekly Meeting
Quillayute Valley Scholarship Auction
and
monthly business meeting
"No Host" lunch featuring a weekly lunch special, soup of the day, clam chowder or order off the menu. Your choice!
Is there any such thing as a free lunch? Every Chamber member that attends a Business Meeting will have a chance to win a free lunch! The more meetings you attend, the more chances you have to win.
Meetings are open to the public.
Running Start Information Night

@ Peninsula college
Mar 6 @ 6:00 pm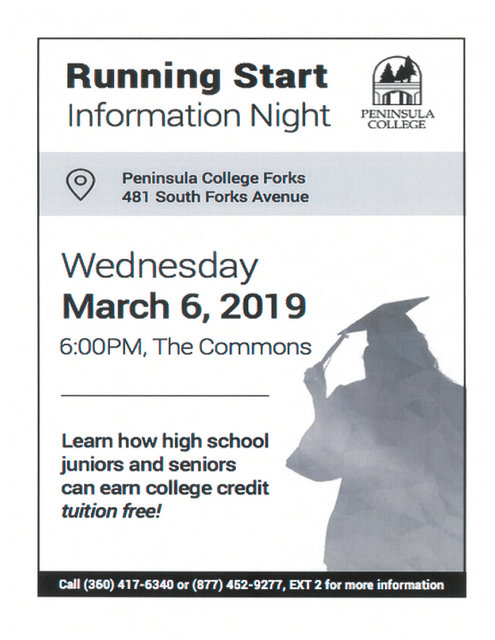 Running Start Information Night
Learn how high school juniors and seniors can earn college credit tuition free!
Peninsula College  The Commons