Events
Sep
13
Thu
Forks Restaurant Days

@ Taqueria Santa Ana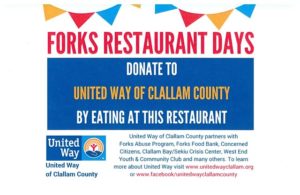 September 13, 2018/

Taqueria Santa Ana
80 Calawah Way
360-374-8606
Authentic Home-style Mexican Dishes
NOLS Libraries Closed

@ Nols Public Libraries
All libraries in the North Olympic Library System (NOLS) will be closed on Thursday, September 13, to allow staff to attend an in-service training day. All NOLS locations will reopen at 10am on Friday, September 14. The Library is always open at www.nols.org.
Sep
14
Fri
Forks Restaurant Days

@ Jitterbug Coffee and Ice Cream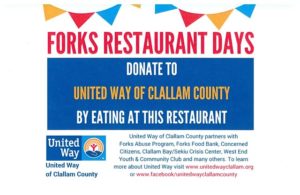 September 14, 2018

Jitterbug Coffee and Ice Cream

90 N. Forks Avenue
360-374-3108 Wi-Fi
Mexican & American Dishes, Full Service Bar
American Breakfast served Friday – Sunday
Family Storytime

@ North Olympic Library System Forks Branch
Sep 14 @ 10:30 am
Family Storytime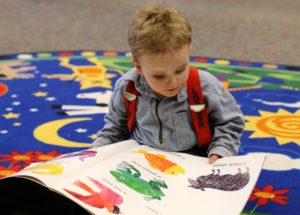 This story time series will take place Friday September 14 and every Friday through May 31, 2019
Family Storytimes feature stories, music, rhymes, and plenty of movement and fun! Activities such as talking, reading, playing, and singing all play an important role in early childhood development. After each session, parents and caregivers will have an opportunity to visit and swap information about parenting resources in the community.
The Forks Branch Library is located at 171 Forks Avenue South. For more information about storytimes and other programs for youth, visit www.nols.org, call 360.374.6402, or email Youth@nols.org.
Sep
15
Sat
Washington CoastSavers International Coastal Cleanup

@ Washington's Coast
Washington CoastSavers International Coastal Cleanup
The International Coastal Cleanup (ICC) is a global cleanup effort organized by the Ocean Conservancy each September. Washington CoastSavers serve as local cleanup coordinators in Washington State. Trash found at ICC events will be counted and included in an annual index of global marine debris to be released in 2017. Last year, nearly 800,000 volunteers collected over 18 million pounds of trash from shorelines around the world. The data gathered at ICC events provides information that can inform policy solutions and identify target areas where preventative solutions will make the biggest difference. ICC events also raise awareness of the pervasive marine debris issue and bring together people and organizations who care about the health of our waterways.
Registration now open
For more information and to register at www.coastsavers.org
Forks Restaurant Days

@ Sully's Drive-In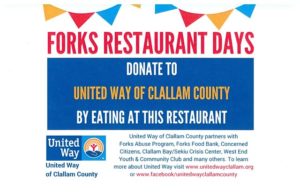 September 15, 2018
Sully's Drive-In
"Home of the Bella Burger"
220 N. Forks Avenue
360-374-5075
Burgers, Baskets, Sandwiches, Salads, Ice Cream
FHS 5K Run

@ FHS Commons
Sep 15 @ 7:30 am – 9:00 am
FHS 5K Run
Blood Drive

@ Forks High School Room 203
Sep 15 @ 10:00 am – 3:00 pm
Forks Open Aire Market

@ Umpqua Bank Parking Lot
Sep 15 @ 10:00 am – 3:00 pm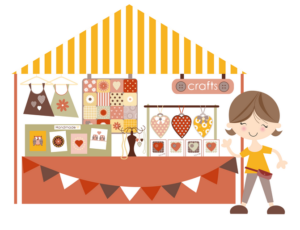 Forks Open Aire Market 2018
Saturdays 10 am – 3 pm
April  – September
Dates Are Tentative
The Forks Open Aire Market is an organization of local craftpersons, artists, gardeners,
sellers and swappers, coming together on Saturdays to showcase and sell our crafts, arts, wearables, edibles, growables & swapables.
Do you have a craft you enjoy?
Would you like the opportunity to sell some of the items you create?
Are you a successful gardener?
Would you like to sell your abundance to those who welcome fresh produce, flowers or plants?
Are you an artist or photographer
who would like to showcase your creations?
Do you have items in your house or apartment that you would like to sell?
Are you a sales agent for a company, and wish to enlarge your customer base?
We want to help!
 Rents 10 ft by 10 ft spaces for only $5 per Saturday,
collected at the end of each Saturday.
You provide your own tables, and canopy if you wish one.
Join us for one day, once a month, or the whole summer.
We welcome new members, and understand it can be difficult to begin a new enterprise.
Have questions? Call360-374-6918 or email kristyrichmond@ymail.com

NOLS: Read and Eat Gathering

@ Forks Branch Library
Sep 15 @ 1:00 pm