Events
Apr
20
Sat
Free River Float

@ Forks Outfitters Parking Lot
Apr 20 @ 9:00 am – 2:00 pm
Free River Float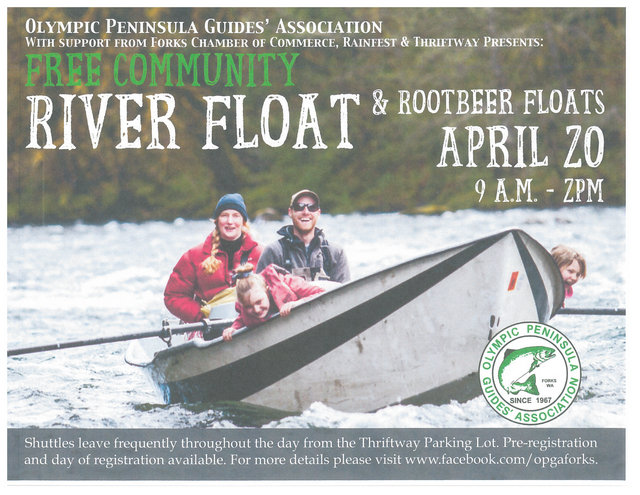 In coordination with this years' Rainfest, the Olympic Peninsula Guides' Association (OPGA) will be putting on a Free Community River Float event on Saturday, April 20th.
Although our guides typically spend their days catching fish, the OPGA want to share with our community the amazing scenic experience created by our stunning rivers as they flow out of the heart of the Olympic National Park.
Beginning at 9 a.m., shuttles (sponsored by the Forks Chamber of Commerce ) will be leaving from the Forks Thriftway parking lot for a 2-hour scenic float on one of our local rivers. Shuttles will leave frequently throughout the day, so come early and get signed up. The event will be first-come first-serve, but we will try and accommodate as many people as we can. We will go later than 2:00pm if there is enough demand.
Please bring warm clothing, rain jackets, sunscreen and your camera! Minimum age is 6 years old (with parent). Life jackets for adults will be provided. We will have some children's life vests, but please feel free to bring one that fits your child if you have it.
Beginning at noon, we will also have root beer floats available (sponsored by Thriftway). All are welcome, even if you can't join us on a river float.
Come join us for a day of fun and experience our area rivers from the viewpoint of a boat or raft!
If you have any questions please contact Ravae at 360-485-3334 or info@olympicpeninsulaguidesassociation.com
May
5
Sun
Annual Fishing Day for Kids!

@ Bogachiel Rearing Pond/Forks
May 5 @ 6:00 am – 12:00 pm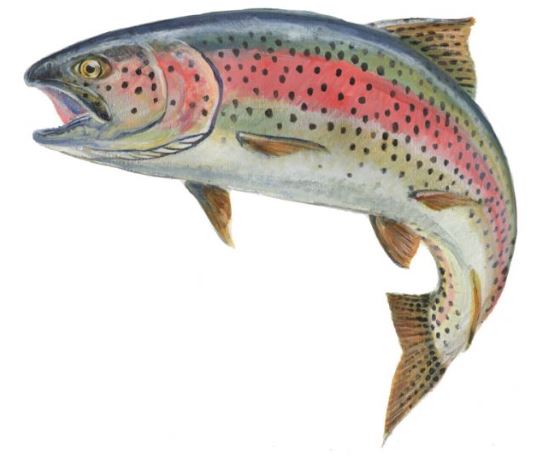 Annual Kids Fishing Day
Set the alarm clock
At the Bogachiel Hatchery Rearing Pond
 May 5th, 2019

Sunday: 6:00 AM – 12:00 PM
 All children 12 and under welcome. Coffee, Hot Chocolate and Donuts provided free of charge. Donations appreciated.

 Sportsmen Club has poles to loan or bring your fishing poles and tackle! Fishing gear is first come, first served.
 5 fish limit per fisher, ex: the first 5 you catch
 Club members available to help young fishers. Parental support, supervision/guidance appreciated.
 Follow signage for parking.
 Sponsored by the West End Sportsmen's Club
Aug
3
Sat
Free Fishing and Wildlife Tours for U.S. Veterans
Aug 3 @ 5:45 am – Aug 4 @ 6:00 am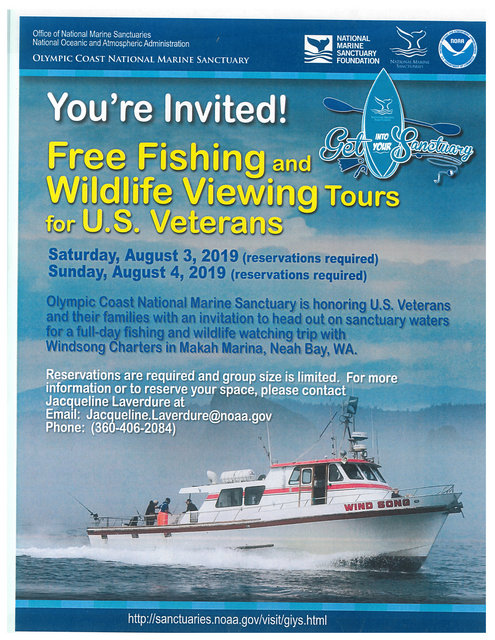 Free Vet Into Your Sanctuary fishing trips aboard Neah Bay fishing charter boat Windsong for U.S veterans and their families. Space is limited. Reservation required – call 360-406-2084 or email Jacqueline.Laverdure@noaa.gov for more information.