Directory
Directory of Chamber of Commerce members in good standing.
A Relaxing Getaway, LLC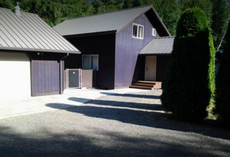 Guests are sure to enjoy a memorable vacation in this fully furnished, 2 bedroom/2 bath cabin retreat. The main bedroom has a queen-sized bed, while the upper large room upstairs is furnished with a queen-sized bed, with plenty of room for children to play or sleep in comfort cot/futon/sleeper. Amenities include high-speed internet, washer/dryer, full kitchen, fenced parking , private green wooded area.