Directory
Directory of Chamber of Commerce members in good standing.
Cedar Grove Counseling of Forks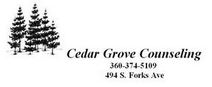 Service include: Youth and adult Treatment, Assessments, Intensive and Weekly Outpatient, Urinalyses, Family Counseling, ADIS classes, Individual and Group Therapy.
Cedar Grove Counseling of Forks is a state-certified facility. We are privately owned and operated; you can expect to be treated as the most important part of our agency.
Addiction is a treatable disease. Whether addiction is undermining your family, your client, your patient, your company or your own life, the professionals at Cedar Grove are skilled at identifying and solving the problem. The range of services we provide are tailored for this purpose. The focus of our staff is to provide these services with the utmost professionalism, confidentiality and respect.
Cedar Grove is certified and licensed to provide the following services:
Treatment for Addictive Disease
DUI Assessments & Treatment Programs which meet requirements for a Deferred Prosecution
Outpatient and Intensive Outpatient Programs
Family Counseling
Relapse Prevention
Addiction-Free Pain Management
Anger Management
Alcohol and Drug Information School (ADIS)
Interventions (Family and Business)
Drug Testing
| | |
| --- | --- |
| Address: | Forks, WA 98331 |
| Website: | |
| Facebook: | |
| Twitter: | |
| Linked In: | |
| YouTube: | |
| Flickr: | |
| Blog: | |
| Email: | gillorr3@gmail.com |
| Toll Free: | |
| Phone: | 360-374-5109 |
| Fax: | |