Directory
Directory of Chamber of Commerce members in good standing.
Forks Dollar Plus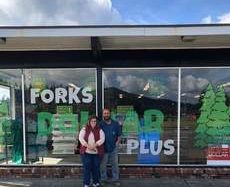 Dollar Plus stores offer the traditional dollar store, along with the ability to offer additional or expanded categories of merchandise not possible within the single dollar pricing structure.
Products include housewares, beauty, camping, auto, greeting cards, gift wrap and grocery items.
Hours: 9 am – 6 pm daily

Address:
520 S. Forks Avenue
Forks, WA 98331
Website:
Facebook:
Twitter:
Linked In:
YouTube:
Flickr:
Blog:
Email:
ForksDollar@gmail.com

Toll Free:
Phone:
360-374-6263

Fax: