Directory
Directory of Chamber of Commerce members in good standing.
Hungry Bear Cafe, Motel & RV Park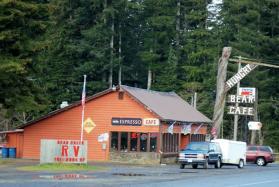 15 miles northeast of Forks: A full service restaurant with hearty breakfasts, lunch & dinner. Daily specials. Beer, Wine & Mixed Drinks.
Motel located on Sol Duc River. Satellite TV, Wi-Fi, street level, public showers, river trail.

Address:
205860 Hwy 101
Milepost 206
Beaver, WA 98305
Website:
Facebook:
Twitter:
Linked In:
YouTube:
Flickr:
Blog:
Email:
hungrybear@olypen.com

Toll Free:
Phone:
(360) 327-3660

Fax: