Directory
Directory of Chamber of Commerce members in good standing.
Jerry's Small Engine Repair and Rentals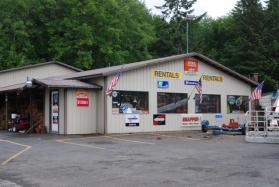 Rental equipment delivery, small engine repair, outdoor power equipment sales, work clothing and shoes. Contracting, excavating, land clearing, hydro seeding, drainage & erosion control. Tree removal, logging. Landscaping design and Construction to include ponds, waterfalls and more.
Specializing in a variety of rentals, including wedding and party supplies – tents, tables, chairs and more. Catering services available. For rental needs in Forks, Jerry's Rentals IS the place.

Address:
1051 S. Forks
P.O. Box 976
Forks, WA 98331
Website:
Facebook:
Twitter:
Linked In:
YouTube:
Flickr:
Blog:
Email:
jerryssmallengines@hotmail.com

Toll Free:
Phone:
(360) 374-2677

Fax:
(360) 374-2677