Directory
Directory of Chamber of Commerce members in good standing.
Sol Duc River Log Cabin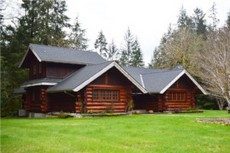 Indulge yourself in this elegant hideaway that features two custom-built log cabins, each with its unique characteristics. Spend quality time with family and friends relaxing in the main log cabin which features an ample dining area, a cozy great room centered around a large river rock fireplace and three en suite bedrooms
The rustic guest-cabin, also known as the "Mancave" is the heart of entertainment with a hot tub, pool table, foosball table, margarita machine, 55" television, extensive DVD collection and a private queen room upstairs. The Mancave also includes a large full kitchen, dining table and laundry room.