Last Chance Salmon Derby
Due to fishing regulations there will not be a 2017 LAST CHANCE SALMON DERBY
2015 Last Chance Salmon Derby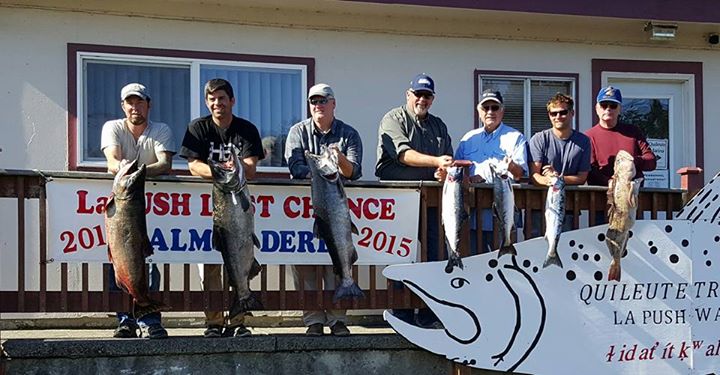 Last Chance Salmon Derby 2015 Winners
Congrats to all of our 2015 derby winners! Pictured left to right – Chinook: 34.7# Tommy Wood, 33.2# Burleigh Surbeck, 32.4# Dave Johnson; Coho: 9# Ken Schoonover, 8.5# Bob DeFelice, 6.3# Wilson Easton; Bottom fish: 23.3# (Lingcod) Douglas Muscott
There were over a hundred people fishing in the derby this year and we appreciate each and every one of them.
Thank you to LCSD committee members Jan Rand, Kitty Sperry and Beverly Loudon, volunteer Wendell Scism, Quileute Marina Harbor Master Gene Ewan, WDFW Checker Dave Smith, High Tide Seafood (we couldn't do it without you), the USCG – Quillayute River, the Quileute Tribal Council and the City of Forks for your support.
We look forward to seeing you all next year!!
LA PUSH LAST CHANCE SALMON DERBY HISTORY
The first derby was held in 2001 as a cooperative venture between the City of Forks, the Quileute Tribe and the Forks Chamber of Commerce. It's held near the end of the fishing year as a "bubble season event." The derby has run each year since except for 2005 and 2014 when the event was cancelled at the last moment because of weather.
It is planned for two days (Saturday and Sunday) but there have been years when it closed early or only ran one day (such as in 2007) due to weather. The Coast Guard, who has always had an active role in overseeing the derby, determines whether or not to "close the bar" and thus shut down the derby. Their concern has always been safety first.
Cash prizes are awarded for largest, second largest and third largest Coho and Chinook and largest bottom fish. At one time, a prize was awarded for largest Lingcod as well as fourth, fifth, and sixth largest Coho and Chinook. In 2010, the latter three prizes were discontinued, as was the Lingcod category. Donated merchandise is given away at the end of the derby to the ticket-holders present.
The entry fee was $30 for both days of fishing until 2010 when it was dropped to $25 for the 2 days.
While not a big derby, as derbies go, participants proclaim it a "fun one" and many come back year after year to fish the tricky waters of La Push.
The derby is co-sponsored by the Forks Chamber of Commerce, City of Forks and the Quileute Tribe.