Directory
Directory of Chamber of Commerce members in good standing.
Quick Search:
0-9 | A | B | C | D | E | F | G | H | I | J | K | L | M | N | O | P | Q | R | S | T | U | V | W | X | Y | Z | all | Clear Search | All Listings
Currently browsing:
Glamping (Glamorous Camping)

813 Kilmer Rd.
P.O. Box 600
Forks, WA 98331
Phone: (360) 374-6295
Email: stay@manitoulodge.com
Website: http://www.manitoulodge.com
Secluded cedar timber-frame lodge on 10 acres of coastal rainforest west of Forks. Featured in Seattle magazine's Ultimate Coastal Guide.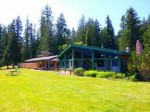 2183 East Beach Road
Port Angeles, WA 98363
Phone: 360-928-3325
Website: http://www.olympicnationalparks.com
Facebook: http://www.facebook.com/olympicnationalpark
When Life Was Simple! Originally built as the Log Cabin Hotel, it was erected in 1895 overlooking beautiful Lake Crescent by Mr. Saunders, a Collector of Customs from Port Townsend. It was a handsomely constructed two-story building of peeled cedar logs. The hotel was a "far-famed" vacation spot until it fell victim to fire in [Read more...]

383 Leyendecker Rd.
Forks, WA 98331
Phone: 360-374-2690
Email: drift@driftboatsucanrent.com
Website: http://www.driftboatsucanrent.com
Ultimate camping by the Sol Duc River in the woods. Camping by the river allows you to go fishing also the camp site is on the family friendly spot with horse shoe pit. Open fire pit w/chairs all around the fire pit. Supplies are all included. All you need to bring is your clothes and food.