About Us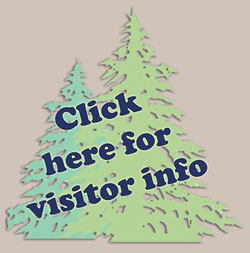 The Forks Chamber of Commerce is a voice and advocate for the business community and other organizations of the West End of the Olympic Peninsula. The chamber is the primary promoter of tourism in our area. Under our umbrella, you will find us operating the year-round Forks Visitor Information Center and Forever Twilight in Forks Collection, creating many guides for lodging, shopping, fishing, activities and dining, and sponsoring the free Logging and Mill Tours that run Wednesdays, May 25-August 31, 2022.
The Forks Chamber of Commerce is honored to represent businesses in this area, as well as businesses in other parts of Washington and the United States. We are proud to partner with the City of Forks in many endeavors and stand by the laws of the City of Forks and the State of Washington.
We look forward to our continued productive relationship with the City of Forks and the businesses that we represent.
Summer hours*
Winter Hours*
(Memorial Day thru September 11)
(September 12 thru day before Memorial Day)
Mon-Sat 10am-5pm
Mon-Sat 10am-4pm
Sun 11am-4pm
Sun 11am-4pm
*may close 30 minutes for lunch
Weekly Luncheon Meetings
We hold weekly meetings (see event calendar for exact dates) on Wednesdays at Noon at Blakeslee's Bar & Grill meeting room (1222 S Forks Avenue) with programs and speakers of interest to the community.  Everyone is welcome and you don't have to be a chamber member to attend!
Join Us!
Whether you are a local business or individual, or just want to support and participate in our community, you are invited to join the Forks Chamber of Commerce. Introductory membership is only $50 for the first year. Please contact us to learn more about joining.
Benefits of joining the Chamber include:
New Member Showcase –you are invited to spend a few minutes at your first Business Meeting (the first Wednesday of each month) sharing news and information about your business
Free listing in the Business Directory on this site with both email and website links, which includes a photo or logo.
Advertise with a click-through banner on the Chamber website ($150 additional for each quarter of the year).
Receive a weekly email, with business and marketing opportunities, including upcoming events, chamber news, the schedule of speakers and programs and items of interest to the community
Weekly luncheons featuring discussion topics and programs — a great place to network and introduce new staff and services
Membership affiliations with Clallam County Economic Development Council, Association of Washington Business and others
Candidate forums, events and programs of interest to the community
Brochure display and referrals from the Visitor Information Center
Suitable-for-framing membership certificate and window cling decal designed to inform the public that your business is a community-minded Chamber member.
Chamber Staff
Kari Larson
Assistant to the Executive Director
General Questions or Area Information
Visitor Information Center Staff
Gay Bunnell
Wendy Sumner
Chamber Volunteers
Volunteers
Teresa & Ronnie Aldrich
Log Tour Guides
Richard Halverson
Randy Mesenbrink
The Chamber would be unable to function without the generous participation of its many volunteers. These volunteers work tirelessly to promote their community and deserve our deepest gratitude.
If you would like to volunteer some time to a meaningful cause, please consider contacting us to learn more about our volunteer opportunities. Forks Chamber of Commerce/Visitor Information Center telephone number: 360-374-2531.
2022 Chamber Board of Directors
President – Sharon Millett – Hoh Indian Tribe
Past President – Christi Baron – Forks Forum
Vice-President – Diana Reaume – Quillayute Valley School District
Secretary – Melene Bourm – Forks Community Hospital
Treasurer – Linda Keen – Quillayute River Resort
At large – Judge Bruce Hanify, District Court II
At Large – Bruce Paul – Forks Outfitters
At large – Bill Peach – Individual
At Large – Trent Thurman, Miller Tree Inn B&B
Representative – Tim Fletcher, Mayor – City of Forks
Representative – Renee Rux, Quileute Oceanside Resort – Quileute Nation