Directory
Directory of Chamber of Commerce members in good standing.
Kalaloch Lodge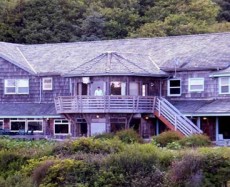 Stay at Kalaloch Lodge in Olympic National Park
Kalaloch Lodge is an Olympic National Park hotel property located a few sandy steps from the pristine Pacific coast.  Tucked between lowland forest, temperate rainforest and marine sanctuary, Kalaloch offers accommodations with spectacular views, comfortable amenities and unrivaled outdoor recreation.
Kalaloch is your Olympic Peninsula escape, whether the focus is romance, recreation or rejuvenation.  The Main Lodge building is Kalaloch's focul point, featuring 10 rooms, the Creekside Restaurant and Gift Shop.  Set just off the Main Lodge are the rustic yet comfortable Bluff and Kalaloch cabins, many with panoramic Pacific Ocean views.  Several of Kalaloch's cabins offer kitchenettes and cozy Franklin fireplaces, and are pet-friendly.
Kalaloch's two-story Seacreast Building is yet another championed Olympic Peninsula lodging option, set just a short walk from the cabins and main lodge.  And the Kalaloch Group Campground offers an under-the-stars setting within sight and sound of the thundering Pacific Ocean.
Kalaloch Mercantile is your hub for sundries, groceries, firewood, ice and more.
Part of the Olympic Coast National Marine Sanctuary, Kalaloch hosts a field guide's-worth of wildlife including puffins, sea otters and the largest convocation of bald eagles in the continental U.S.  Walking, biking, hiking, beachcombing, clamming and whale watching are popular local pastimes.  Olympic's storied Ruby Beach, with legendary mountain, glacier and rain forest views, is just a few miles away.
Delaware North Companies Parks & Resorts at Kalaloch, Inc. is a Concessioner authorized by the National Park Service and the Department of the Interior to serve the public within Olympic National Park.