Directory
Directory of Chamber of Commerce members in good standing.
Bogachiel State Park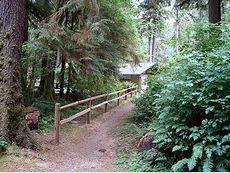 Bogachiel State Park is a thickly forested 123-acre camping park on the banks of the Bogachiel River. "It isn't the end of the world, but you can see it from there." So goes a popular Northwest saying about this vicinity. The remote park, located on the tip of the Hoh Rainforest of Washington state, abounds in lush vegetation.
Camping and day use.