Directory
Directory of Chamber of Commerce members in good standing.
Colette's Bed & Breakfast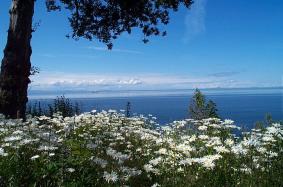 60 miles east of Forks in the Port Angeles area:
Fodor's 2009 – "Top Choice" for the Olympic Peninsula – considered the very best. Best Places to Kiss in the Pacific Northwest 2009 – "Utopian Oceanfront Hideaway". Karen Brown's Guide 2009 – "Top Pick". Voted "Greatest Value" by Karen Brown's Pacific Northwest 2009 Exceptional Places to Stay. Colette's is a breathtaking 10-acre oceanfront estate nestled between the majestic Olympic Range and the picturesque Strait of Juan de Fuca. Luxurious King Suites with magnificent waterfront views, romantic fireplaces, indulgent Jacuzzi spas for two and private entrances from the gardens or fountain courtyard rejuvenate guests at the end of the day. Stroll through Colette's 10-acre outdoor sanctuary including enchanting gardens, towering cedars and lush evergreen forest…Luxurious Romantic Escapes – tailored for your special occasion. Seasonal and mid-week rates are available.