Directory
Directory of Chamber of Commerce members in good standing.
Elk Loop Vacation Rental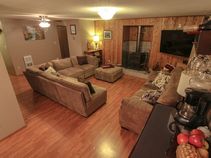 You and your family will love this beautiful 3-bedroom (Two Queens and a King) 2-bath home located just east of the city of Forks. With 1200 sq ft, you'll have plenty of room to move about without losing that quaint, cozy atmosphere when its time to cuddle up on the large couches. House is on the backside of a family-friendly loop community. It sits on ½ acre and borders state forest (trees, trees and more trees!) and just a short walk away is an idyllic trail that borders Elk Creek. Speaking of Elk, they have been known to frequent the yard. Waking up to a 500+ pound elk right outside your window is spectacular.
We tried to give each room a slightly different aesthetic while capturing the beauty of the areas we travel to and the photos we take.
Spend your days enjoying the gorgeous area and come back to relax and unwind next to the wood fireplace! If staying in is more your style (or the rainy weather comes) a full hallway closet is dedicated to board games/cards, TV with Roku/Netflix/Amazon Prime streaming, Wii, and DVD's. This home will feel like a perfect getaway with all the amenities to be your home away from home.
Some nearby attractions are:
Hoh Rain Forest (55 min to visitor center)
Scenic beaches (closest are near La Push (First, Second & Third Beach and Rialto Beach – 28 min)
Hiking trails (so many to choose from closest is 5 min walk to trailhead – Elk Creek Trail)
Rivers (Hoh, Bogachiel, Calawah, Sol Duc, Quillayute)
Sol Duc Hot Springs (60 min)
Northwest Coast/Strait of Juan de Fuca (45 min)
Lake Crescent (45 min)
Olympic National Park
Downtown Forks (Thriftway grocery store & restaurants – 8 min)
Twilight sights/tour (Inquire at Visitor Center – 8 min)
and so much more!
Limited cell phone coverage but wireless Internet is provided. This is a pet-free, smoke-free home (small covered area outside for smoking). Call Ravae with any questions!