Directory
Directory of Chamber of Commerce members in good standing.
Gibbs Consulting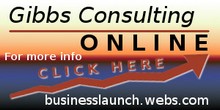 Real World Challenges With Real World Solutions:
Leadership and supervisory training taught in a fast paced interactive way that is supported with real life experiences from a 30+ year supervisor, manager and administrator who has taught for retail, prison, school district, hospital, tribal, law enforcement, natural resources, food services, utilities, day care, etc. employees for improved workplace/career enhancement. I come to you.