Directory
Directory of Chamber of Commerce members in good standing.
Hartnagel Building Supply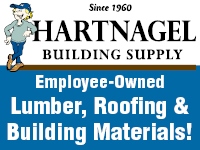 We provide lumber, building materials, paint, tools, hardware and roofing supplies to builders, businesses and homeowners alike. Our long-term, knowledgeable staff will help you find just what you need. Plus we've been delivering throughout Clallam County and the West End for decades, including delivery to your home, jobsite and rooftops!
•Delivery throughout Clallam County including twice weekly to the West End.
•Offering homeowner and contractor services.
•We love special orders for doors, windows, and other building materials.
•Custom Metal Shop – We'll bend or cut metal to your specs.
•In-store roofing showroom with displays of composite and metal roofing samples.
Both Hartnagel Building Supply and our sister store Angeles Millwork & Lumber Company are employee owned and operated which means we really care about your building and home improvement projects.
Port Angeles phone number 360-452-8933, Forks phone number 374-7700
Store hours:
Monday – Friday 7:00 to 5:30
Saturday 8:00 to 5:00
Sunday 10:00 to 3:00
Store Manager: Kelly Fox
Contractor Sales: Dave Olson, Wayne Billmark
Roofing Sales: Kevin Hanson
Retail Sales: Bill Sommers