Directory
Directory of Chamber of Commerce members in good standing.
Hoh River Rafters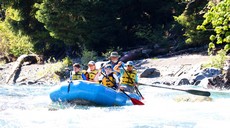 White water rafting trips down the beautiful Hoh River with Wilderness Gossip Columnist for the Peninsula Daily News, Fishing Guide and Hoh River Rafters LLC owner Pat Neal. Raft the upper Hoh River during the summer months, floating through a temperate rainforest observing wildlife, massive trees and the amazing forces of nature at work on a wild river. Trips start at 9 a.m. and 2 p.m. 7 days a week, May till the water drops too low in September; depart from the Peak 6 Adventure Store MP 5 Upper Hoh Rd.
See website to book online, and for more information.