Directory
Directory of Chamber of Commerce members in good standing.
Home Slice Take N Bake Pizza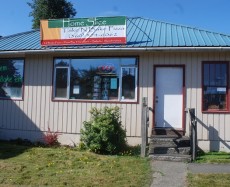 Home Slice Take N Bake Pizza lets you "Build Your Own" pizza or choose from the delicious specialty pizzas offered on the menu, then take it home or to your hotel and bake it or have them do it for you.    Salads, sandwiches, nachos, cheesy bread and dessert pizzas can be made to order too!
Want to sit down and have a quick bite?  Already-cooked slices and a dining room are waiting for your enjoyment.
Hours are
Monday – Friday 11am to 8pm
Saturday and Sunday 12pm to 8pm
Check out the Daily Specials too!
Address:
110 South Forks Avenue
Forks, WA
Website:
Facebook:
Twitter:
Linked In:
YouTube:
Flickr:
Blog:
Email:
Toll Free:
Phone:
360-374-6062

Fax: