Directory
Directory of Chamber of Commerce members in good standing.
Kerosene Lamp Antiques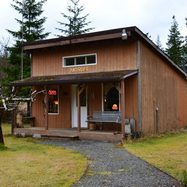 Kerosene Lamp Antiques is located at 651 Chuckhole Way, just off of Merchant Rd. We have two buildings full of antiques and collectibles. The front shop has a lot of glassware – including Fenton, Carnival Glass, Depression Glass,etc. And lots of vintage prints such as Fox, Parrish, MaryGold, Guttman and more, silhouettes, chalkware, small furniture. Too much to list right here. The back building is what we call "The Mens Room", lots of old tools, logging axes, saws, scaling sticks, etc. Both shops have vintage lighting fixtures 1860 to 1930. Railroad lanterns, barn lanterns, vintage doorstops, and lots of rust. A really large selection of Japanese glass fishing floats of all sizes. And of course, lots of Kerosene Lamps. And wall to wall with a lot of good quality "stuff".
Look for the yellow/black sandwich board displayed on Forks Avenue (main street) and Calawah Way when shop's open!