Directory
Directory of Chamber of Commerce members in good standing.
Log Cabin Resort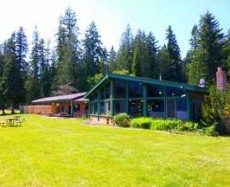 Open through 9/30/14 for the 2014 season
When Life Was Simple!
Originally built as the Log Cabin Hotel, it was erected in 1895 overlooking beautiful Lake Crescent by Mr. Saunders, a Collector of Customs from Port Townsend. It was a handsomely constructed two-story building of peeled cedar logs. The hotel was a "far-famed" vacation spot until it fell victim to fire in 1932.
Log Cabin Resort was constructed at the same location in the early fifties on Lake Crescent, located within what is now known as Olympic National Park, a World Heritage Park, designated a National Park by Congress in 1938.
The Resort is proud to be a family oriented resort. We continue to welcome third and fourth generations of families renewing their summer traditions in July and August to enjoy the trails, spectacular waterfalls, snow-capped mountains and deep blue waters.
Log Cabin Resort offers a variety of accommodations including Lakeside Chalets, Comfortable Lodge Rooms, Camper Cabins, Rustic Cabins, Camping Log Cabins, as well as Full hook-up RV sites.
Cabins, Outdoor Camping and RV Camping
Our Camping Log Cabins are individual, one room log cabins with two double beds.
Electricity is available
There is no indoor plumbing
Includes an outside picnic table and campfire barrel
There is a Comfort station nearby
Maximum four persons
Our RV sites are full hook up. RV check in time 1:00pm check out time 12:00pm.
Tent sites are available with or without electricity.
Boating
Explore the beautiful glacier-carved Lake Crescent with a rowboat rental or kayak. You can fish, have a picnic lunch or just drift with the breeze and bask in the warm sunshine. The lake is known for its crystal clear water that's over 600 feet deep in parts.  Many private residents who live around the lake still get their drinking water directly from the lake.
Our casual lakeside deli provides stunning views of Lake Crescent.  We serve fresh sandwiches, salads, homemade pizzas and more. Perfect for a lunch break during a busy day of fishing, hiking or kayaking nearby. We also offer seating outside on the lawn. Join us for fresh food, laidback atmosphere and great conversation!