Directory
Directory of Chamber of Commerce members in good standing.
Miller Tree Inn B&B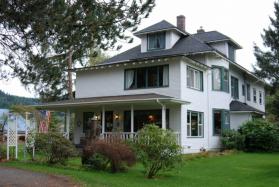 1/4 mile east of downtown Forks:
Historic 1916 farmhouse in pastoral setting. Warm hospitality and breakfast abundant. 8 rooms, including 3 with whirlpool tubs and 2 with gas fireplaces. Suites available for children under 7 and pets. Hot tub. Free wireless internet service.
Also known as the "Cullen" house in Forks!