Directory
Directory of Chamber of Commerce members in good standing.
Misty Valley Inn B&B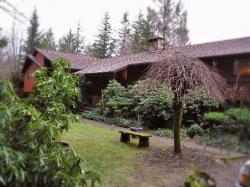 Unexpected Elegance in the Mist of the Sol Duc River Valley
2 miles north of Forks:
Magnificent view of Sol Duc River Meadows and you might see an eagle or herd of elk in the meadow. Inn breakfast choices: Washington Apple Soufflé, Irish Waffles, Strawberry Crepes, French Toast, Moroccan Omelet or fruit pancakes. Evening tea and coffee with desserts. Breakfast time is selected by guests. Wake up beverages are delivered to your door for an individual wake up call. Four guest rooms are available, with private baths, central area, baby grand piano, and rose garden spa. We are located near the Hoh Rain Forest and Ocean beaches.

Address:
P.O. Box 1817
Forks, WA 98331
Website:
http://www.mistyvalleyinn.com

Facebook:
Twitter:
Linked In:
YouTube:
Flickr:
Blog:
Email:
mistyinn@olynet.com

Toll Free:
(877) 374-9389

Phone:
(360) 374-9389 or (877) 374-9389 (toll-free)

Fax:
(360) 374-3310