Directory
Directory of Chamber of Commerce members in good standing.
Quileute Oceanside Resort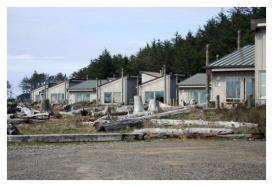 Oceanfront cabins located right on First Beach!
15 miles west of Forks:  Oceanfront cabins that include one, two or three bedrooms. Some cabins available with propane fireplaces or wood stoves. Also, two motel buildings are available for lodging (Whale & Thunderbird). Watch whales or seabirds. Launch a kayak or surfboard. Gift shop with native art items, hoodies and t-shirts.
Come experience the tranquility and natural beauty of the rugged coastline of the mighty Pacific and visit the haunts of all your favorite characters from the popular book series penned by Stephenie Meyer. Jacob Black and the rest of the Quileute's invite you to experience La Push and 1st Beach.The stories and legends abound here – where the Quileute's have lived for over 1,000 years welcoming outsiders to experience the bounty of the land and the history and culture that is thriving in their day-to-day lives.
All motel units feature mini kitchens and are tastefully appointed in an authentic Native American motif with spectacular ocean views.We do not have televisions or telephones in our rooms to allow you to escape the chaos of the busy world.
Address:
320 Ocean Drive
P.O. Box 67
La Push, WA 98350
Website:
http://www.quileuteoceanside.com/

Facebook:
Twitter:
Linked In:
YouTube:
Flickr:
Blog:
Email:
Toll Free:
800-487-1267

Phone:
360-374-5267

Fax: