Directory
Directory of Chamber of Commerce members in good standing.
Rivers Edge Restaurant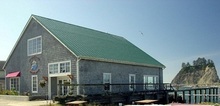 The only restaurant in La Push. Located next to the Quillayute River with a view of the river flowing into the ocean. Frequent sightings of bald eagles, seals and other wildlife.  Serving Breakfast, Lunch, Dinner, Seafood and Desserts.
Catering service available too!

Address:
41 Main Street
La Push, WA 98305
Website:
Facebook:
Twitter:
Linked In:
YouTube:
Flickr:
Blog:
Email:
Toll Free:
Phone:
360-374-0777

Fax: