Directory
Directory of Chamber of Commerce members in good standing.
Todds Creekside Cabin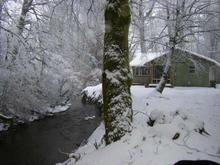 "A GOOD NIGHT'S SLEEP ENSURES A GREAT DAY OF PLAY!"
Peace & Tranquility does exist – and to think you just stumbled upon it!
This non-smoking, air-conditioned THREE bedroom cabin viewing Tassel Creek, located 2 miles North of Forks is nestled in the tranquil nature your soul will appreciate. Treat your eyes with the wildlife as this is the stomping grounds for the elk, deer, bobcat, cougar, black bear, coyote and even the wolf has been caught on camera from this site.
Did I mention in the fall salmon, 3-foot and longer, spawn? They can be viewed through the windows of this charming retreat. At the end of the road, check out the beautiful Sol Duc River, with nesting grounds for majestic bald eagles and a public boat launch.
Hope to see you soon! Todd