Directory
Directory of Chamber of Commerce members in good standing.
Twilight Lodgings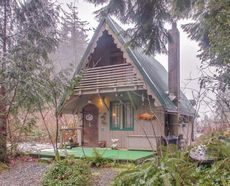 Two locations available in Forks, Washington on the beautiful Olympic Peninsula.
Twilight Cabin (shown) is a private cabin secluded on wooded, creekside acreage near Forks.
Twilight Cottage has a lot of rooms and plenty of parking, centrally located within the city near restaurants and shopping.
These properties can be found on Airbnb.com and vrbo.com
Twilight Cabin
131 Bunker Rd.
Forks, WA 98331
Twilight Cottage
41 Wood St.
Forks, WA 98331