June 21st, 2019 by Lissy Andros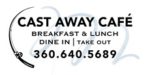 GRAND OPENING JULY 3RD!
It all began with a simple idea… To provide high quality, great tasting and affordable food, served to our guests in a warm and friendly environment.
Cast Away Cafe serves breakfast and lunch. You can dine in or take out. Call or text your order in ahead of time if you choose!
Free WiFi, and charging areas for your electronic devices.