Day 3: Explore The Northwest Coast
Day 1 – Day 2 – Day 3 – Day 4 – Day 5 – 5 Day Guide Home Page
---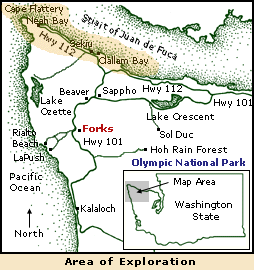 Head to the most Northwestern tip of the continental US, exploring Cape Flattery, perhaps take a whale watching tour, walk along Hobuck Beach and visit the internationally-known Makah Museum. Along Hwy 112 are the communities of Clallam Bay, Sekiu and Neah Bay and spectacular views of the Strait of Juan de Fuca and Vancouver Island in British Columbia, Canada. Birders will delight in the variety of sea and migratory foul found in this region, a list of sites and species is available by request or online. Some of the best tide pools in Washington can be found near Clallam Bay at Slip Point. Access is from the county day-use park right in town. Once on the beach, head to the right toward the point. Check the tides and allow plenty of time to be safe. Picturesque Sekiu has several boat marinas – a fun stroll to look at the boats and perhaps catch a glimpse of halibut, ling cod or red snapper fresh from the Strait.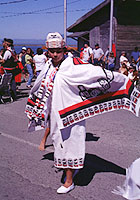 Traditional Makah Attire
Continuing toward Neah Bay along Hwy 112, watch for the occasional gray whales that feed in the shallow reefs along the Strait of Juan de Fuca. Keep an eye out for bald eagles that can be seen along this dramatic stretch of highway, particularly in late winter. Whale watching, scuba and fishing charters as well as kayak rentals and guided coastal tours are available seasonally at Sekiu and Neah Bay.
Makah Indian artifacts more than 500 years old are preserved and displayed at the Makah Museum in Neah Bay (360) 645-2711 (Open daily). Neah Bay is also a major stop on the Northwest Flyway for migratory birds.
Beyond the village of Neah Bay, enjoy a spectacular .7-mile walk to
Cape Flattery
, the most northwestern point in the contiguous 48 states! The boardwalk trail leads through the forest to breathtaking vistas with four observation decks where one can see Tatoosh and Vancouver Islands, sea life and ship traffic. Turning south over the Waatch River near the
Makah Tribal Center
will lead to the scenic crescent of Hobuck Beach, which is open to the public year-round for day-use. Continue to the new northern entrance to Olympic National Park and
Shi Shi Beach
where the
Point of the Arches
rock formations can be found.