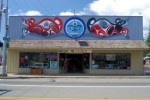 10 Forks Ave.
Forks, WA 98331
Phone: 360-374-2111
Email:
anna_m_peterson@hotmail.com
Website:
http://www.nativetotwilight.com
Facebook:
Native Art brings Jacob Black's world to life. Twilight inspired T-shirts, sweatshirts and gift items along with traditional coastal tribal crafts such as baskets, knitted hats & gloves, masks and jewelry. Doing business at the main intersection in Forks (location of the stoplight at Division St. and Forks Ave).