Forever Twilight in Forks Festival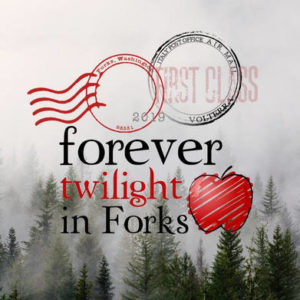 We're thrilled to welcome our fandom family back to the town chosen by Stephenie Meyer as the home for her vampire family and her lonely high school girl who we followed into their world. Forks will forever be the home of Twilight, and so to celebrate the love story that started it all, we are pleased and proud to announce our weekend festival, from September 12th through 15th, 2019.
So save the date to celebrate!
Click here to purchase tickets
Click the picture below to download PDF of 2019 Festival Schedule.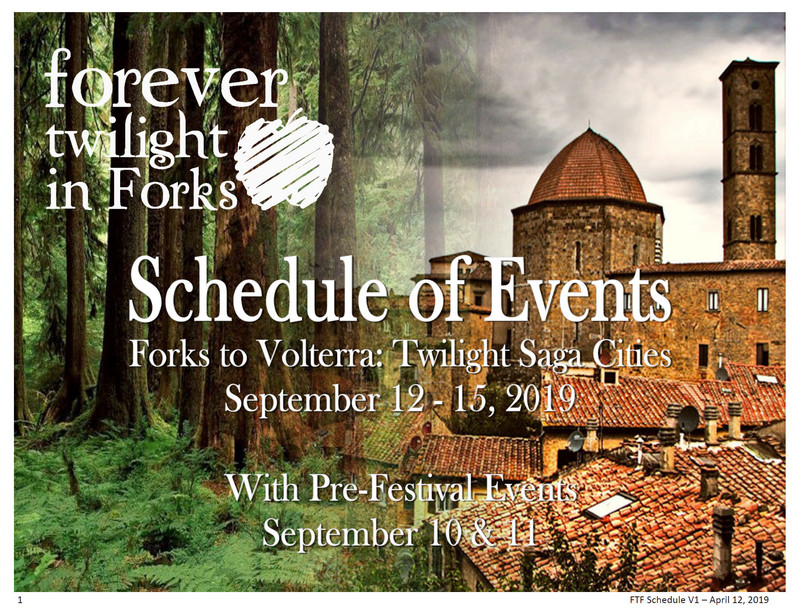 We would like to thank our fabulous sponsors:
Forever
Jack Morrissey / Team Jack • Method Agency, LLC • Forks Motel • Dew Drop Inn • Forks True Value • Land's End Images • Pacific Inn Motel • Quileute Oceanside Resort • Prop Store • Jessi J's Uniquely Handmade Crafts • Forks Forest / Fern Acres • Bella Italia Restaurant • The Alpha Males • Forks Outfitters • Heather Hansen & Alanna Levesque • Tombstone Shirts • Under The New Moon Gifts • Tiffani Woody • Edwina Bates
2019 APPLE
Olympic Laundry & Cleaners • OlderWomanGroup (OWG) • Rainforest Rentals • SJB Construction Inc.
2019 SILVER VOLVO
Kelly Grable / Kelly's Dance Academy • Forks Elks Lodge • Mayberry To Forks • Lissy & Vicki • Native To Twilight • Laurel Black Design • Olympic Corrections Center • Miller Tree Inn B&B • Sully's Drive-In • CresComm WiFi • Professional Realty Services • Misty Valley Inn B&B • Twilight in Vegas • Forks Athletic & Aquatic Club • BBG Blakeslee's Bar & Grill • Quillayute Valley School District • Catering with the Castellanos • Kim's Creations & Tulle Shed • Washington State Twilighters (WST) • PNW Twilighters (PNWT) • Kearson Winchester / Random Fandom Life • First Federal • Sarah George • VFW & American Legion • FTF Aro "ShAro" • Confessions of a Twilight Mom; United & Giving Back!
2019 RED CHEVY
Quillayute River Resort • Robert & Adrienne Spykers • Love Bites Jewelry • Three Rivers Resort & Guide Service • Natalie Davies • Manitou Lodge • Forks Timber Museum • Harbinger Winery • Nancy Eaton • The Cullen Chronicles • Author JoAnna Grace • The Cascade Coven • Randy & Rochelle Angevine • Especially For You • Connie Beauvais • Stroup Family • twifamily penpals • Lisa & Heather Hunt • Serendipity Squad • Teri &Rick Capps • Pacific Pizza • TJS-Photography • Elke Van der Stricht • Jamie Yunger • Twilightgirlportland.com • Author Nely Cab • ACozyRiverHouse.com
and a very special thank you to
City of Forks • Olympic Peninsula Visitor Bureau • Port of Port Angeles • Port of Seattle
and the LLOYD J. ALLEN CHARITABLE TRUST
Our Mission Statement
---
Forever Twilight in Forks is comprised of the Forks Chamber of Commerce as well as a group of volunteer planners based in Forks, all over the United States and internationally. Our team consists of dedicated Twilight fans, just like the thousands of visitors that have been annually flocking to Forks since 2006. Our love for the books, characters and author are at the root of what we do during that magical weekend in September. We dedicate our time and energy all year long, putting our best efforts towards creating a loving, supportive environment for everyone who makes the trek to the place where it all happens.
Our mission is to provide Twilight fans with a fun-filled weekend, where everyone can enjoy each others company and feel welcomed and comfortable within our very tight-knit community. Twilight has created a unique fandom, with members from all corners of the world, and we as a team are committed to keeping that spirit alive for all those who still feel as passionate about the Twilight Saga today as they did when they first fell in love with it.
We are also dedicated to giving back to the community of Forks. Without the support of local businesses and people, our annual event would not be the success that it is. Our events are always planned with these groups in mind, creating fundraising opportunities as well, to better our beautiful town.