Forever Twilight in Forks Festival
Join us to celebrate #BD2Movie10 September 8-11, 2022!
Watch for information about our Sept 8-11, 2022 festival on our FB Group Page
Sign up on this link for our mailing list to receive upcoming announcements on Forever Twilight in Forks Collection & Festival, and other Forks-related news.
To download the "Acknowledgment of Risks" form for the group hikes click on this link.
Tickets for #FTF2023 September 14-17, 2023 go on sale January 1st at 10 am Pacific Time in our online store!  
We are so happy to have Twilight Saga Actor Special Guests joining us in September!!

Click here for a one-page condensed schedule!
Make sure to check out the picture link below to see the schedule full of all of the FREE  & ticketed events!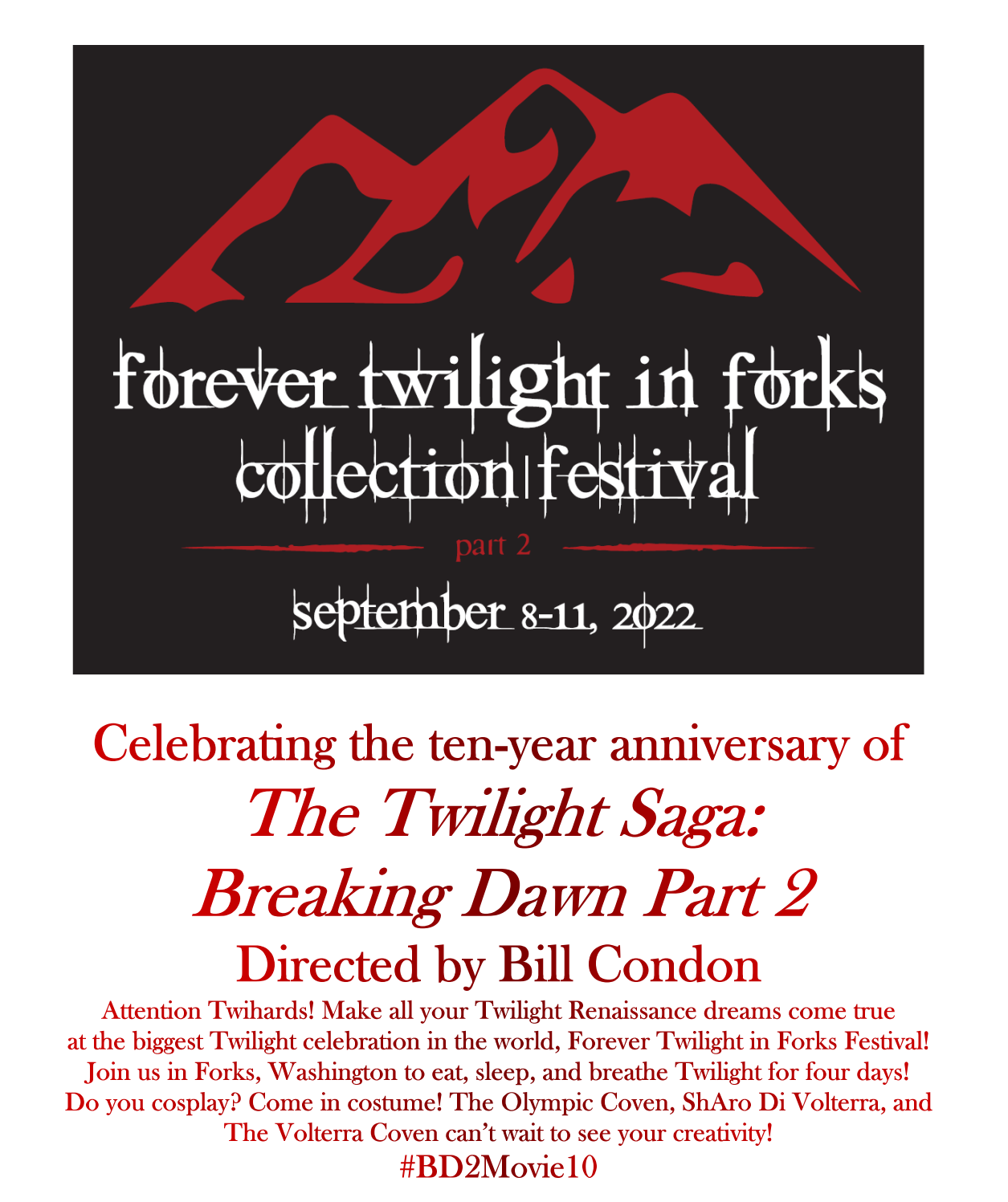 NEW THIS YEAR
Your Autograph/Photograph (A/P) timeslot will be based on when your ticket is purchased in full. This will also affect your breakfast and dinner times. Once your ticket is purchased, we will let you know your number. We recommend coordinating with those in your group to make sure your tickets are paid in close proximity. Otherwise, if a member of your group completes their purchase at a different time and you want to be together, you will have to go during the latest timeslot in your party. If your group buys all on one order, you will be guaranteed to be together. For payment plans, the payment is applied to the order, not the individual.
At the A/P event, there will be fifty people per group. For example: Group 1 would be 1-50 and will be called and any number within that group can line up. It will not be in numerical order, but by group. Once a group is called, the person in that group can line up anytime. Then we will call Group 2 and anyone with 1-50 and 51-100 can line up, and so on.
If you are 1-175, you will have the early breakfast and early dinner ticket. Please arrive with your complete party to the meals.
If you are 176-350, you will have the late breakfast and late dinner ticket. Please arrive with your complete party to the meals.
Group amounts may vary slightly to accommodate tickets purchased as a group.
TICKETS
A ticket purchased in full consists of a ticket paid at time of purchase, or if vouchers are purchased and they equal the ticket cost, and a corresponding ticket is reserved (and "Pay by check" chosen at checkout) that is considered paid in full. If you buy vouchers with no corresponding ticket, you don't have a ticket.
Vouchers must be purchased in correspondence with a ticket to be applicable.
If you have a ticket credit from 2021 you will need to purchase another $125 in vouchers (or whatever the difference is between your credit and the current ticket price). If you have a ticket credit and you are an international traveler, please contact Lissy Andros prior to purchasing your ticket.
Transfers of VIT Tickets from the purchaser to a third party can only be processed through Forks Chamber of Commerce. The deadline for transfers is August 15th.
Tickets are non-refundable.
PAYMENT PLANS
You can reserve your ticket by ordering it through the online store and choosing "Pay by Check" at checkout. You will need to make a down-payment within one week of purchasing or your ticket will be voided. Down-payments need to be $50 minimum, per Very Important Twilighter (VIT). Tickets must be paid in full by May 31st (postmarked if mailing).
Payments can be made by check/money order (United States only) or by vouchers in our online store (United States and international). Any payments made on tickets that are not paid in full by May 31st are non-refundable.
If you are an invited author or a vendor at the bazaar AND a VIT Ticketholder
Please keep in mind that you might miss the breakfast if it conflicts with your set up.
You are responsible for arranging for someone to watch your booth during your assigned A/P group, OR you can choose to get in line after you have completed your takedown, if time allows.
COVID
During the festival we will be following the guidelines set forth by our County Health Officer and/or State of Washington.
We appreciate your continued support and look forward to planning an amazing event for you September 8-11, 2022!
Click here to go to the online store.
We're thrilled to welcome our fandom family back to the town chosen by Stephenie Meyer as the home for her vampire family and her lonely high school girl who we followed into their world. Forks will forever be the home of Twilight, and so to celebrate the love story that started it all, we are pleased and proud to announce our weekend festival, from September 14th through 17th, 2023.
So save the date to celebrate!
We would like to thank our fabulous sponsors:
FOREVER SPONSORS
JACK MORRISSEY / TEAM JACK
BELLA ITALIA RESTAURANT | CULLEN HOUSE AKA MILLER TREE INN | DEMARIA LAW FIRM | DEW DROP INN | EDWINA BATES|ELKE VAN DER STRICHT | FANDOM.COM / SCREEN JUNKIES | FANDOM PINS | FIRST FEDERAL | FOG + FERN CLOTHING CO. | FORKS FOREST / FERN ACRES | FORKS MOTEL | FORKS OUTFITTERS | HOH INDIAN TRIBE | JESSI J'S UNIQUELY HANDMADE CRAFTS | LAND'S END IMAGES | LISSY & VICKI | METHOD AGENCY, LLC | MONIQUE, JUSTIN & LIT | NANCY EATON | NANCY KIRKPATRICK | NATIVE TO TWILIGHT | PACIFIC INN MOTEL | PAT & BOB STARK | PNW TWILIGHTERS (PNWT) | PROP STORE | QUILEUTE OCEANSIDE RESORT | RONNIE & TERESA ALDRICH | SASQUATCH THE LEGEND | SPARKLE LLC IN MEMORY OF LOUANNE KRUSE | THE ALPHA MALES | 3 RIVERS RESORT | TIFFANI WOODY | TOMBSTONE SHIRTS | TOWN MOTEL | TWI-HARD TEXANS | TWILIGHT NETFUN FOREVER | UNDER THE NEW MOON GIFTS | XANADU PINS
2022 APPLE
Carollynn Chipman | Cotton Stag | Forks Forum | Forks Timber Museum | Mar-web Builders
 2022 SILVER VOLVO
BBG Blakeslee's Bar & Grill | Catering with the Castellanos | Confessions of a Twilight Mom | CresComm WiFi | Forks Elks Lodge | Kelly Grable/Kelly's Dance Academy | Kim's Creations & Tulle Shed | Laurel Black Communication + Design | Olympic Corrections Center | Pacific Pizza | Quillayute Valley School District | Sarah George | Sully's Drive-In | Twilight in Vegas
2022 RED CHEVY
Author Nely Cab | Black Pansy Alcove | Connie Beauvais | Crystal Moreno | Fern Hill Designs Co. | Forks Community Hospital Foundation | Gay Bunnell | Joe & Linda Offutt | Love Bites Jewelry | Lunadora | Quillayute River Resort | The Other Cullen Girl | The Spartan Plumber | Twilight Swan House
and a very special thank you to
and the LLOYD J. ALLEN CHARITABLE TRUST
Our Mission Statement
---
Forever Twilight in Forks is comprised of the Forks Chamber of Commerce as well as a group of volunteer planners based in Forks, all over the United States and internationally.  Our team consists of dedicated Twilight fans, just like the thousands of visitors that have been annually flocking to Forks since 2006. Our love for the books, characters and author are at the root of what we do during that magical weekend in September. We dedicate our time and energy all year long, putting our best efforts towards creating a loving, supportive environment for everyone who makes the trek to the place where it all happens.
Our mission is to provide Twilight fans with a fun-filled weekend, where everyone can enjoy each others company and feel welcomed and comfortable within our very tight-knit community. Twilight has created a unique fandom, with members from all corners of the world, and we as a team are committed to keeping that spirit alive for all those who still feel as passionate about the Twilight Saga today as they did when they first fell in love with it.
We are also dedicated to giving back to the community of Forks.  Without the support of local businesses and people, our annual event would not be the success that it is. Our events are always planned with these groups in mind, creating fundraising opportunities as well, to better our beautiful town.